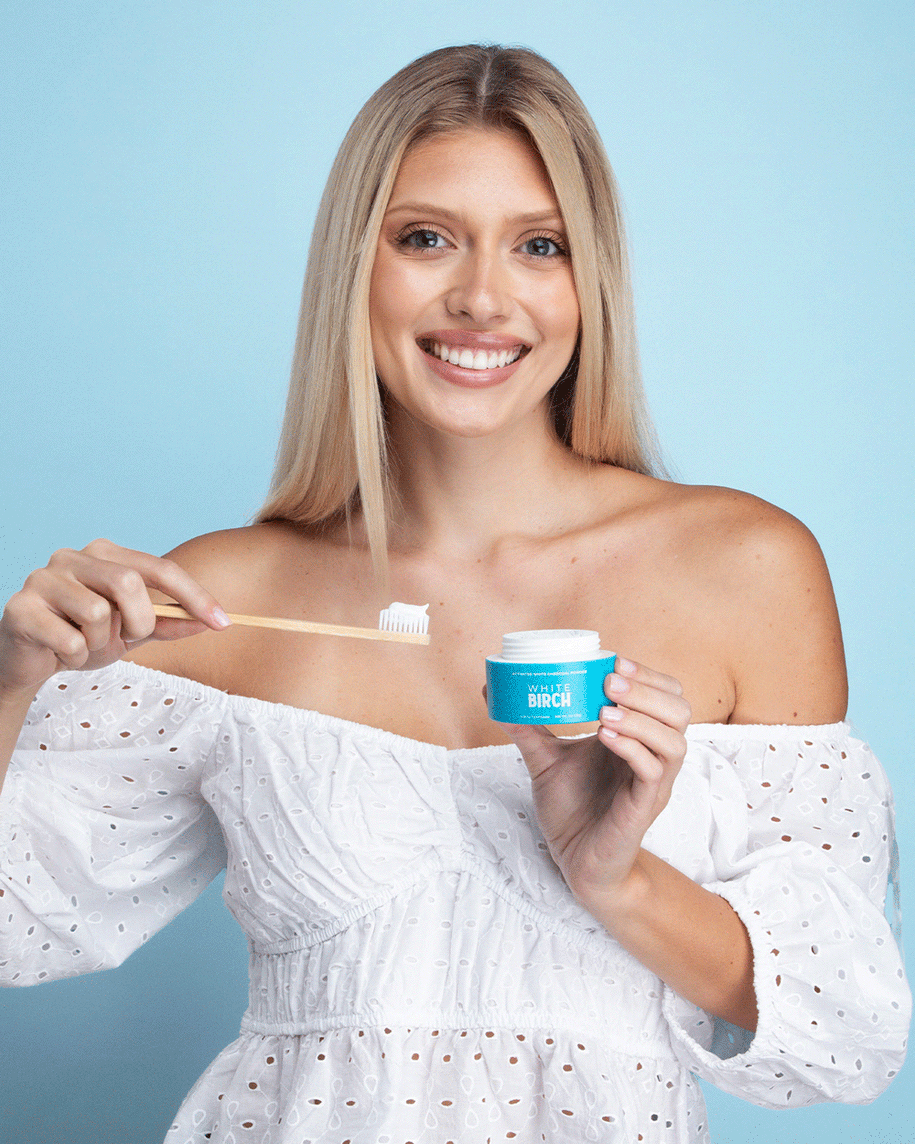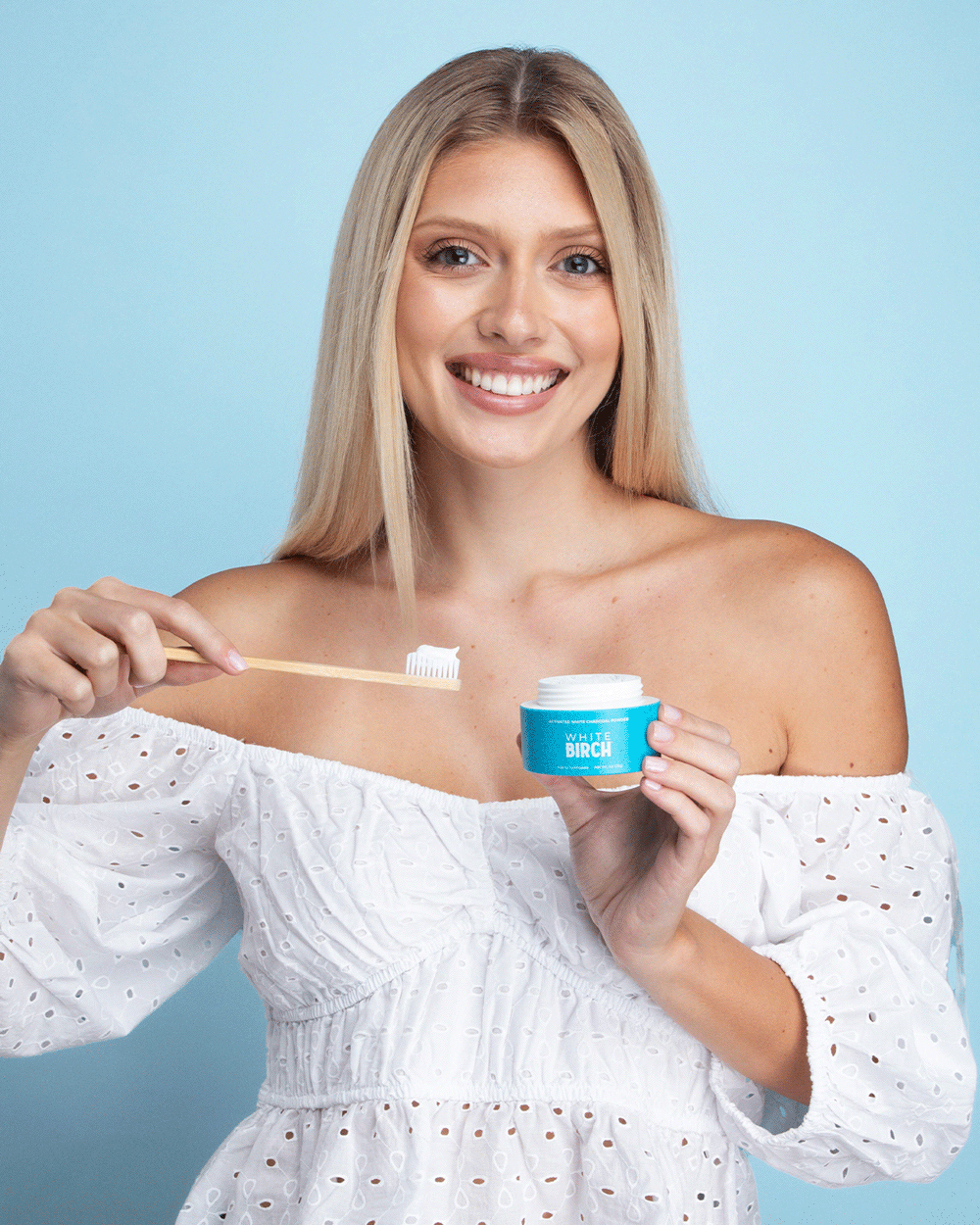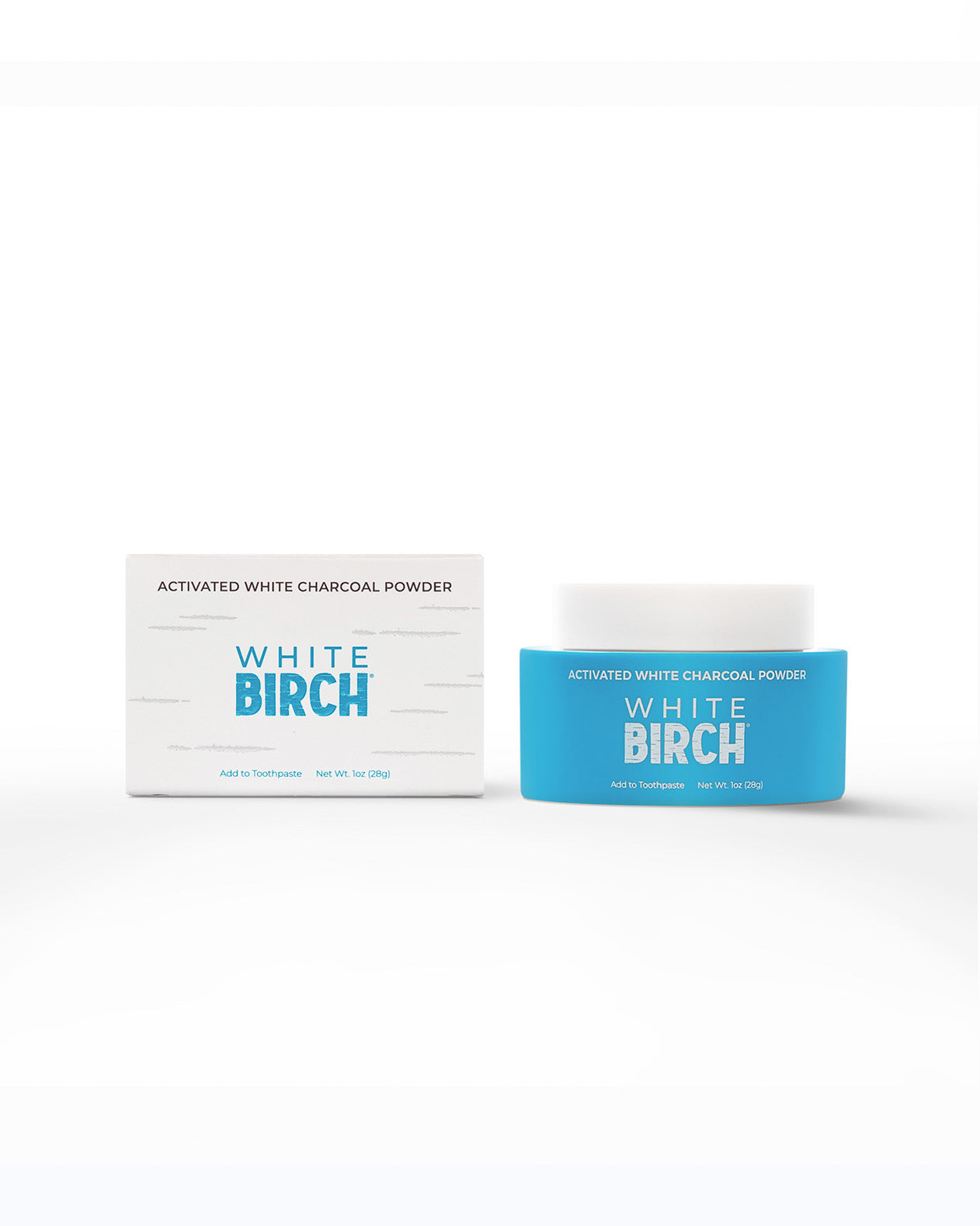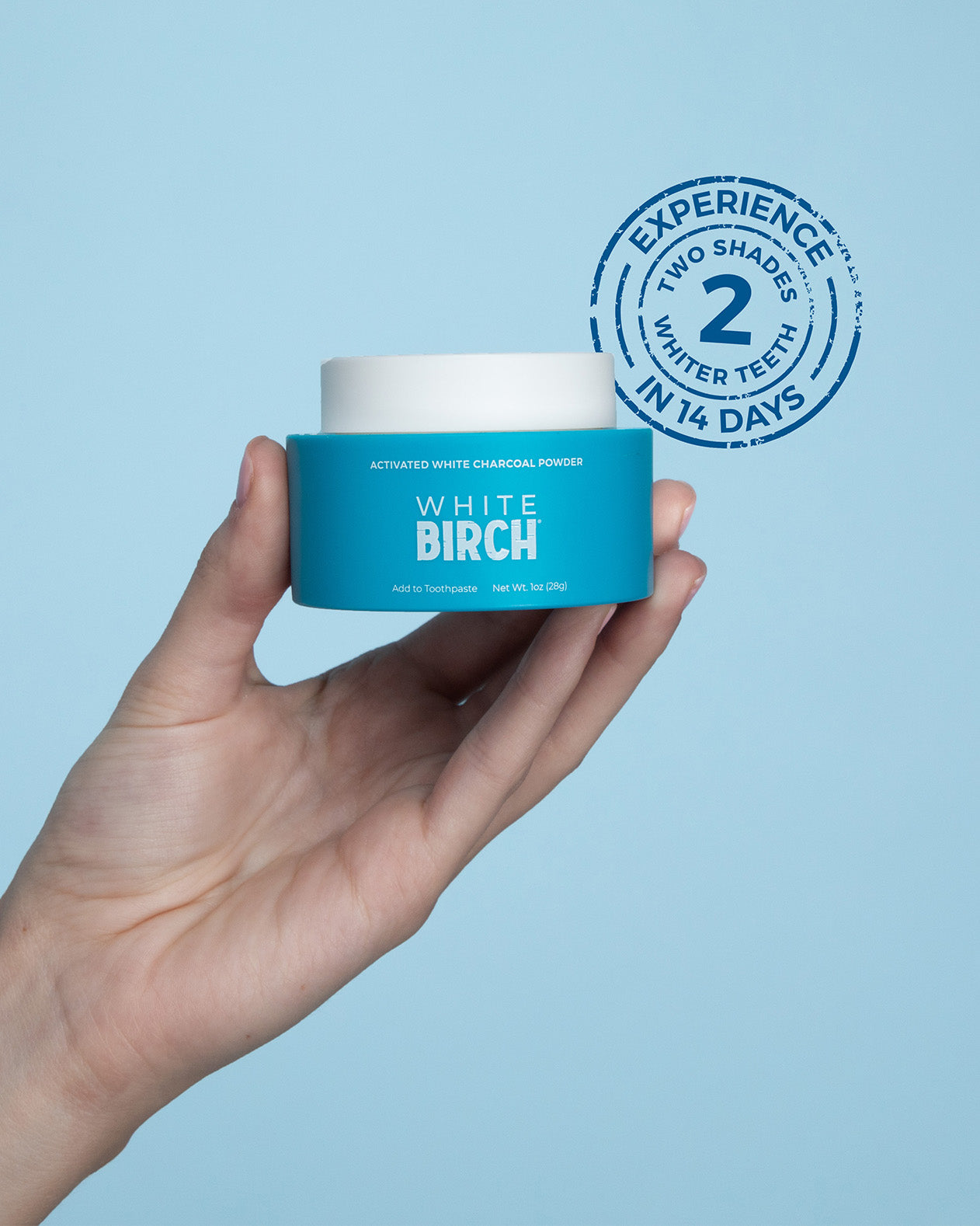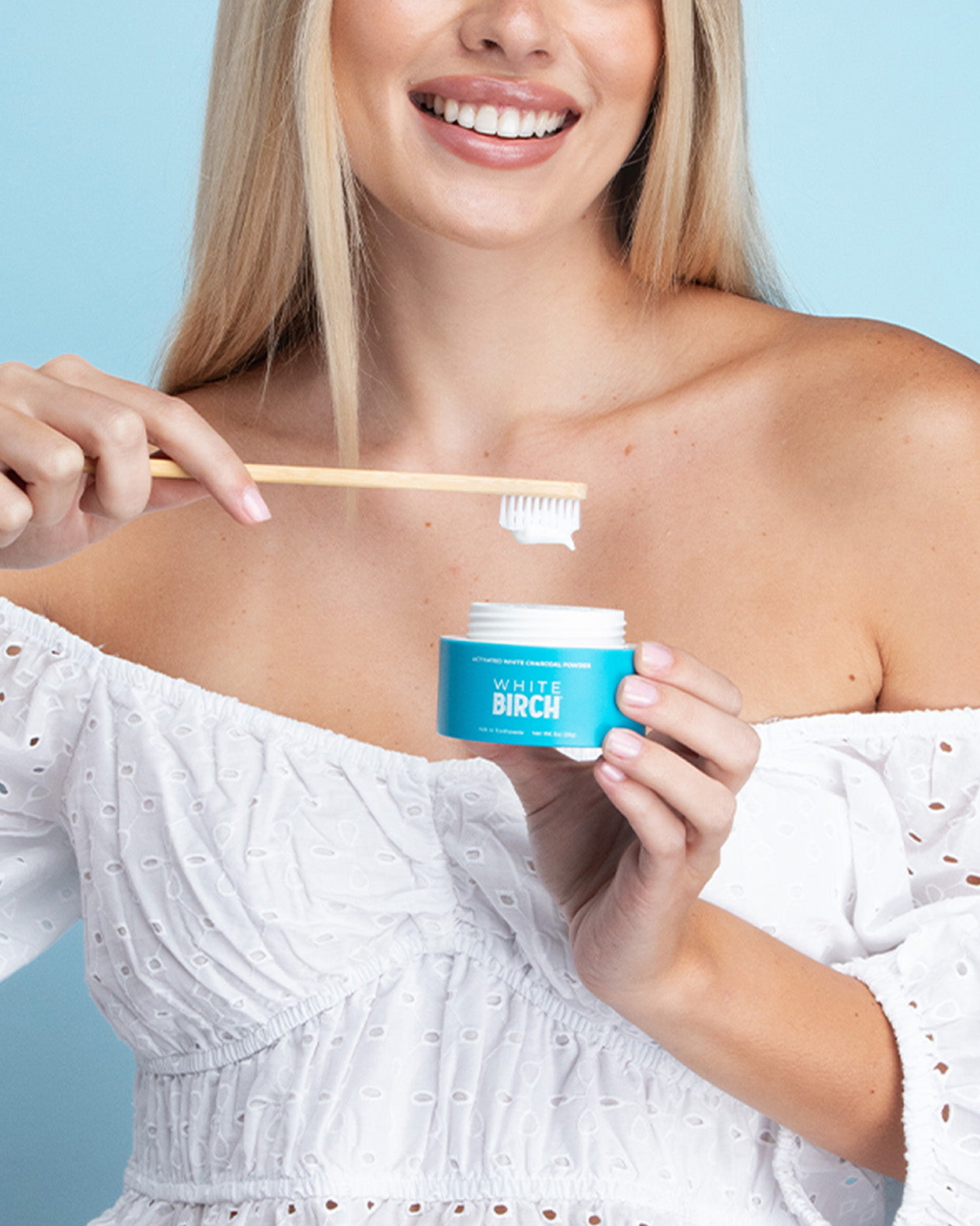 White Birch® Activated White Charcoal Teeth Whitening Powder
$19.99
How White Charcoal Works
THE WHITENING POWER OF CHARCOAL - WITH NONE OF THE MESS

Just dip your pasted toothbrush into White Birch Whitening Powder and two minutes of regular brushing does the rest. By integrating seamlessly with normal brushing, our whitening powder works 85% faster than expensive and messy strips and trays.

BENEFITS
• 85% faster than strips and trays
• 4 to 6 shades brighter smile in 14 days without paying hundreds of dollars
• Saves money compared to laser and clinical whitening systems

No Strips, No Trays
ROUTINE BRUSHING NOW GETS YOU PROFESSIONAL-STRENGTH TEETH WHITENING

Naturally Safe & Effective
DENTIST CREATED, DENTIST APPROVED

Routine Brushing Now Gets You Professional-Strength Teeth Whitening. Our safe and effective, proprietary formula works to remove and prevent stubborn stains including wine, tea, and coffee, while brightening and whitening teeth for a healthier smile. Also prevents tartar and tooth discoloration, removes plaque and freshens breath. Are you ready for a whiter, healthier smile?

SAFE FOR EVERYONE
• No sensitivity
• Safe with crowns and veneers
• Naturally derived ingredients

Ingredients: Activated Charcoal, Sodium Bicarbonate, Calcium Carbonate, Stevia, Organic Peppermint Powder, Organic Wintergreen Powder, Zinc Chloride.

Size:1.16oz / 33g

Caution: Use only as directed. Keep out of reach of children under 12 years of age. If experiencing sensitivity to gums or teeth when brushing with charcoal powder stop using and consult a dentist. Do not swallow. Avoid contact with eyes. If contact occurs , rinse eyes thoroughly with water.


THE REFRESH PEN
The anytime, anywhere convenience of a whitening maintenance pen now comes with the proven results of the revolutionary activated white charcoal formula by White Birch.

By simply scrubbing your teeth for 1 minute with the White Birch paste using the pen's silicone tip—then blotting your teeth with a tissue or rinsing with water—you can easily touch up your teeth on-the-go for freshened breath and picture-perfect teeth ready for that big presentation or hot date.

Now a simple step you can perform anywhere can transform your smile instantly, undoing the stains that can come from such items as coffee, cola and red wine—while maintaining the brightening and whitening and health of your smile.
HOW TO USE THE PEN:
Remove cap and twist the bottom end of pen until whitening paste dispenses (it may take several clicks with the first use). For best results, smile and begin scrubbing all of your teeth with the silicone tip/paste for 1 minute. Wait 30 seconds after scrubbing then blot your teeth with a tissue or rinse water. Do not swallow. Apply throughout day to refresh your breath and teeth.
WE ARE LOOKING FORWARD TO YOUR FEEDBACK!
You're the first to try our REFRESH Pen and we would love to hear your feedback to make it even better.

We want to know your feedback. You can email us at info@getwhitebirch.com or you can send us a direct message on Facebook or Instagram - @getwhitebirch.